CEO Xiaoping Xu was invited to attend the Nigeria Business Investment Forum
Views: 2190 Author: Site Editor Publish Time: 2018-07-25 Origin: Site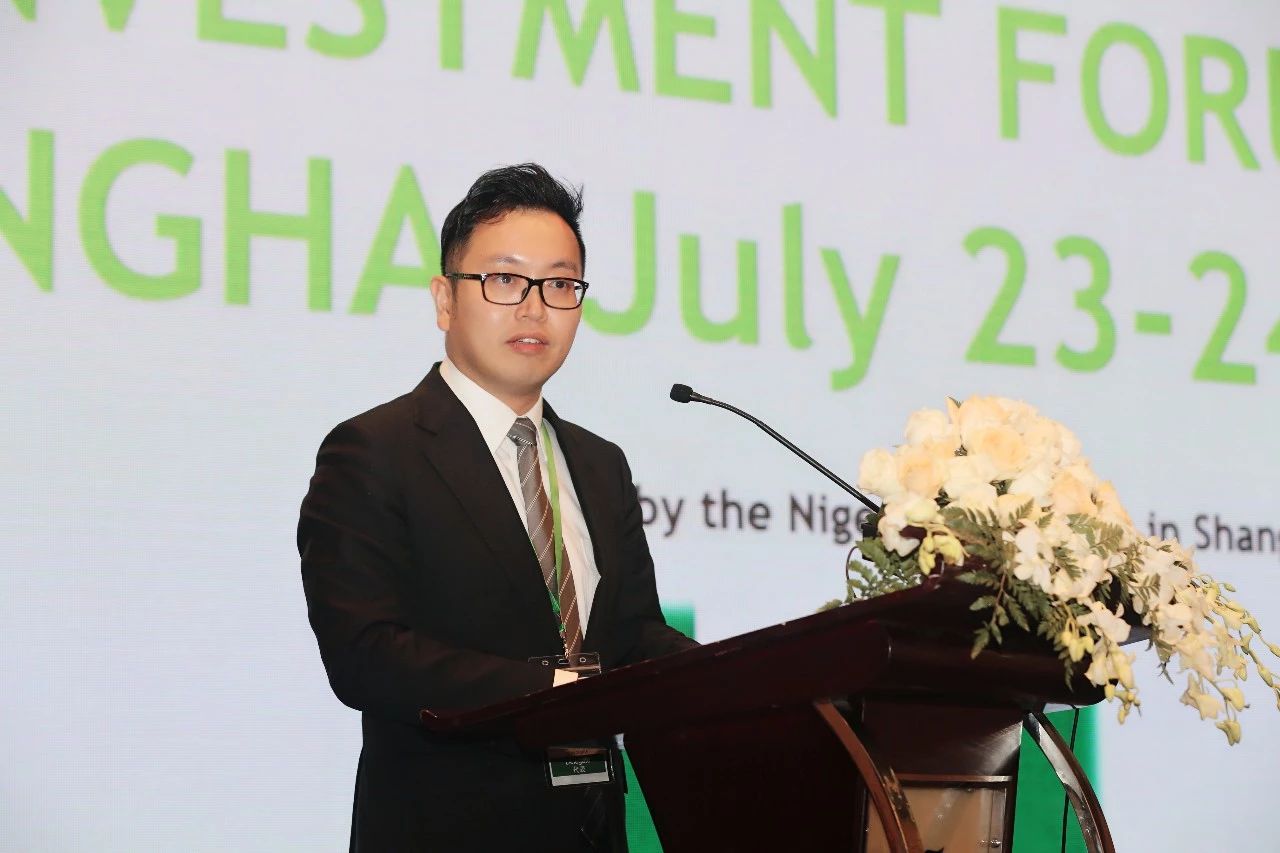 The Nigerian Business Investment Forum, hosted by the Nigerian Consulate General in Shanghai, was held at the Shanghai Marriott Hotel on July 23.Relevant leaders from China and Nigeria, embassy officials, business leaders and entrepreneur representatives attended the meeting. Nigerian Ambassador to China Mr.Ahmad Jidda and CEO Xiaoping Xu were invited to attend the forum and delivered a keynote speech on business opportunities for cross-border investment and trade between China and Nigeria.
Conference Registration
CEO Xu of Longrich attended the meeting
It is reported that The Nigerian Consulate General in Shanghai hosted this forum in order to promote the development of trade, investment and economy between Nigeria and China.Mr. Ahmad Jidda, Ambassador of Nigeria to China, Mr. Madubike, Consul General of Nigeria in Shanghai, and Umahi, Governor of Ebonyi State of Nigeria, attended the meeting.
Mr.Madubike, Consul General of Nigeria in Shanghai, delivered a speech
Mr. Ahmad Jidda, Ambassador of Nigeria to China, delivered a speech
Through a detailed introduction to Nigeria's business environment, investment profile, agricultural investment opportunities, preferential policies, etc., the forum aims to strengthen Nigeria's promotion in China, build a new platform for deepen cooperation between China and Nigeria, expand dialogue and exchange, and promote China and Nepal cooperate in various fields such as finance, investment and trade. Nigeria and China agreed to carry out a $240 million currency swap to increase trade relations and reduce the need to use the US dollar in bilateral trade, which is a good opportunity for partners looking for business in Nigeria.
meeting venue
At the forum meeting, CEO Xu shared the history of Longrich's efforts to open up the African trade market in recent years. He said that Longrich will continue to carry out various businesses in Nigeria in accordance with the principle of honesty and win-win, and become the core enterprise of Chinese brands with integrity; share the successful experience of economic development with Nigerian enterprises actively, learn from each other, and actively innovate and cooperate. The model will achieve mutual benefit and win-win results and common growth and progress; Chinese-funded enterprises should not only pay attention to their own development, but also give full play to the role of Sino-Nigeria cooperation ties, better fulfill their social responsibilities, and write a new chapter in comprehensive cooperation. This sharing attracted the attention of many participants and became the highlight of the forum.
CEO Xu delivered a speech
During the mid-session social session, Longrich's booth attracted the attention of relevant Nigerian leaders and guests. They showed great interest in Longliqi's products.
The product zone of Longrich
Nigerian guests understand the products of Longrich
At the forum meeting on Chinese investment in Nigeria, Nigerian guests said that Longrich is a famous Chinese company and is willing to provide all convenience and support for Longrich's development in Nigeria. He hopes that Longrich will lead more entrepreneurs and dealers to visit and cooperate with Nigeria.
Nigeria, the largest oil producer in Africa which is rich in resources . With a population of 180 million, it is the most populous country in Africa. The Nigerian market is large in scale and has strong purchasing power. It belongs to emerging market countries and quickly approaches the standards of middle-income countries. With considerable oil revenue and huge population, Nigeria is considered to be the star of the continent and has good development prospects.
Forum meeting on Chinese investment in Nigeria
CEO Xu spoke
Longrich has grown steadily in the African market in recent years. At present, it has provided comprehensive services such as large supply chain, product guarantee and customs clearance for African branches such as Nigeria, South Africa, Cameroon and Congo. The modern industrial 4.0 standard factory in Lagosleki Free Trade Zone, Nigeria, was officially started in May 2018. It is expected to complete the infrastructure in 2019 and will use the most advanced technology and the best quality products to serve the African market.
meeting venue
CEO Xu and the Nigerian Ambassador to China, Mr.Ahmad Jidda
The success of the forum not only provided the best platform to showcase the projects of trusted investors, but also provided a profitable Nigerian project worthy of foreign investment. It has effectively promoted the close cooperation between the two countries in business cooperation and broadened the prospects for business cooperation between the two countries. Longrich expects to bring more quality products and business opportunities of Longliqi to Africa through in-depth cooperation with more African countries.