Longrich, Inspired by 'Belt and Road Initiative', Goes from Strength to Strength on Philippine Market
Views: 99 Author: Site Editor Publish Time: 2017-09-18 Origin: Site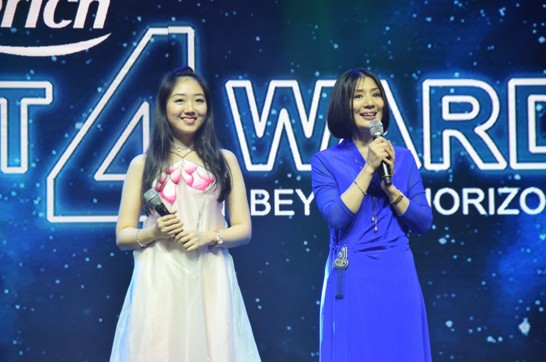 Lately, Longrich Philippine branch held an all-time grand 4th anniversary celebration and awards ceremony at Cuneta Stadium, Pasay, Manila. This big event saw large attendance of prominent dignitaries, business leaders, celebrities and outstanding distributors from across the Philippines, including Philippine Presidential Security Group Commander General Dagoy and his wife, the King of United Kingdom of Sulu North Borneo Raja Mohammad and his wife, Longrich chairman Mr. Xu Zhiwei and his wife, celebrated artist Daisy Reyes, top Philippine DJ Papa Jackson, Longrich 3-star directors Ms Gong Lijun, Alanx, Longrich Overseas Market President Charlie Chin, as well as some 5,000 Philippine distributors of Longrich company.
A group photo showing Longrich Chairman Xu Zhiwei(leftmost)and his wife(rightmost), together with General Dagoy and his wife (middle)
King Raja Mohammad and Queen Maria delivering a speech
Longrch Chairman Xu Zhiwei exchanged gift with King Raja Mohammad
A group photo showing Longrich top leadership and prominent guests
Distributors reached fever pitch in the midst of the celebration.
Longrich Chairman Xu Zhiwei and his wife waved to high-spirited distributors when coming on stage.
Longrich Chairman Xu Zhiwei made a keynote slide presentation.
Longrich chairman Xu Zhiwei expressed sincere gratitude to all the Philippine family members for their unswerving support, invaluable contribution as well as positive response to Longrich Global Reach Strategy which represents Longrich's resolve to implement Chinese government's 'Belt and Road Initiative'. In his speech, Chairman Xu reiterated Longrich's commitment to serving Philippine market and his vision to leverage Philippine market as a bridgehead for its global reach strategy. Longrich is slated to expand its overseas business to 65 countries by 2018, thus paving the way for its overseas distributors to achieve a record global success. Lastly, Chairman Xu expressed his hope that Philippine family members could continue to select, trust, support and join forces with Longrich for a brighter and better future.
Longrich Overseas Market President Charlie Chin unveiled Business Growth Plan, Strategy and New Product Lines
Philippine Strategic Commission Chairman Rich shared his success stories in a buoyant mood.
The speech made by Ms Gong in English moved distributors to tears.
Car award winners holding symbolic car keys posed for a group photo on the stage.
One-star director Baby delivered a speech titled 4-Year Uphill Journey for a Deserving Cause
3-star director Alanx raised glass in firm belief that Longrich is the only company that can help distributors achieve global success.
The celebration was laden with dance and songs typical of the Philippines, from start to finish. Amid the celebration, Longrich Philippine business leaders (Rich, Ms Gong, Alanx, Baby, etc.) shared their success stories full of sweat and tears. They also expressed deep love for Longrich and great sense of fulfilment following their devotion to Longrich cause. They encouraged more and more people to join Longrich and deliver premium products and wealth opportunities to a wider range of consumers.
Longrich spokesperson, the most popular Philippine DJ PAPA JACK played smash hit live.
A $8,000 prize draw winner was moved to tears of joy.
Popular Philippine Rock band Parokya Ni Edgar sang with great passion to round off the celebration.
This celebration is a due manifestation of strength, courage and ambition of Longrich company and its business leaders, at which each Longrich Philippine family members felt the upbeat message and spirits it conveyed: Positiveness, Aggressiveness, Optimism, Resolve, thus laying a solid foundation for Longrich Philippine market to attain new heights. At present, Longrich Philippine monthly sales revenue registered $500,000 and is expected to hit $1million by the end of this year. Longrich distributors will avail itself of this opportunity to further expand Philippine market by combining and leveraging superior resources of Southeast Asia in an effort to make Longrich a truly global company with great reputation and everlasting influence.