Longrich International Distributors Convention opens on an Upbeat Note
Views: 156 Author: ht Publish Time: 2017-10-10 Origin: longrich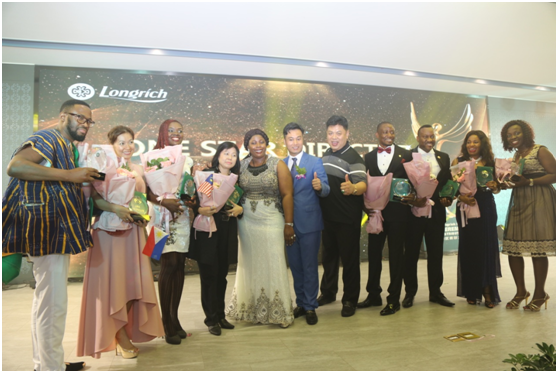 Longrich International Distributors Convention opens
on an Upbeat Note
On the evening of September 10, 2017, Longrich held 2017 International Distributors Convention at its headquarters Makers Conference Room as a follow-up to One Belt One Road Global Summit. The convention that took the form of a dinner party is aimed at offering lavish praises and prestigious awards to Longrich's outstanding distributors from around the world.
At the beginning of the dinner party, all Longrich distributors above Diamond 7 made their appearance by signing their names on a signature wall. Then Longrich chairman Mr. Xu Zhiwei and Longrich Overseas Market President Charlie Chin delivered opening speeches for this well-attended convention. Amid the beautiful songs and sweet music performed by two brilliant Ukraine artists, a commendation ceremony began in earnest. Longrich top management presented certificates, trophies and awards to its outstanding international distributors in attendance, and then threw a collective birthday party for all members born in September. Halfway through the dinner party, Longrich international distributors from Africa and Southeast Asia staged wonderful performance of songs and dances amid rapturous applauses, hearty cheers and high spirits.
Picture1: Longrich Chairman Xu Zhiwei delivered a welcome speech for the convention.
Picture2: Longrich overseas market president Charlie Chin made an opening speech.
Picture3: Longrich Chairman Xu Zhiwei and global leaders raised glasses to market success.
Picture4: Charlie Chin proposed a toast to Longrich African marketing leaders.
Picture5: Ukraine artists performed beautiful songs.
Picture6: Awards and certificates were given to Longrich international distributors below Diamond 5.
Picture7: Trophies and training completion certificates were presented to 6-Diamond distributors.
Picture8: Trophies and training completion certificates were presented to 7-Diamond distributors.
Picture9: Trophies were awarded to 1-Star distributors.
Picture10: Trophies were awarded to 3-Star distributors.
Picture11: Trophies were awarded to 4-Star distributors.
Picture12: A collective birthday party was held for all members born in September.
Picture13: Ghana distributors staged a superb dance performance of JAMA.
Picture14: Malaysian distributors gave a great dance performance of Zumba.
Picture15: South African distributors put on remarkable traditional dance.
Picture16: Nigerian distributors gave extraordinary folk dance.
Picture17: Philippine distributors delivered an impressive Fire Up Dance.
Picture18: Cameroon distributors performed sparkling folk dances.
Picture19: Thai distributors performed great folk songs.
Picture20: Ivory Coast distributors performed impressive folk dance.
Picture21: Indonesia distributors performed wonderful folk musical Gemu Famire Maumere.